March 5, 2011
KolourPaint : Microsoft Paint For Linux
I am not a professional image editing. I use Microsoft Paint to edit my photo. When I migrated to Linux, I searching software to replace Microsoft Paint to edit my photo. I Like Gimp, InkSpace and other image editor for Linux. But that editor is not simple in interface and how to use. So I must searching tutorial how to use that software and I dont like it. I want to get Software like Microsoft Paint for Linux with simple use and simple interface.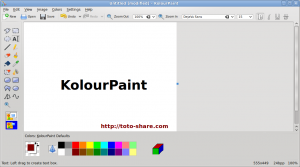 I use Microsoft Paint Image editor to create text, brush, color picker. When I searching, I get KolourPaint Software. This Software like Microsoft Paint for Linux but more feature than Microsoft Paint. KolourPaint has all the tools that Paint provides, such as the Brush, Color Eraser, Color Picker, Connected Lines/Polyline, Pen, Polygon, Rectangle, and Text to name a few. It also incorporates single-key shortcuts for all its tools to allow for better productivity. One of the handiest improvements over Paint is the number of levels of undo and redo, which, depending on memory usage, may be anywhere from 10 to 500 levels of history. Selections are also fully undo- and redo-able. KolourPaint includes support for freehand resizing and arbitrary rotation angles, and provides a choice between opaque and transparent selections.
Unlike Paint, KolourPaint can save in every file format that KImageIO can provide; PNG, ICO, and PCX are supported, with the ability preview the images before you load them.
I Like this software and I can Use this software to replace my favorite paint editor in Windows. KolourPaint is Microsoft Paint For Linux, but have more features than Microsoft Paint.
KolourPaint is also a useful photo editing application. Like the GIMP, it allows you to autocrop (remove internal borders) and adjust brightness, contrast, and gamma. Operations you can perform include clear, flatten, emboss, flip, and invert with the choice of channels. You can also resize and rotate, reduce colors, reduce images to greyscale, and smooth scale, soften, and sharpen images.
You can get Information about KolourPaint compared other Image editor software at here.
Source :
http://www.linux.com/archive/articles/129222
http://kolourpaint.sourceforge.net/about-product-comparison.html