In computing, the process identifier (normally referred to as the process ID or just PID) is a number used by most operating system kernels (such as that of UNIX, Mac OS X or Microsoft Windows) to (temporarily) uniquely identify a process. This number may be used as a parameter in various function calls allowing processes to be manipulated, such as adjusting the process's priority or killing it altogether (wikipedia).
From this post, I try to write how Qt with QProcess get PID. We can show QProces get PID with use command :
Q_PID

QProcess

::

pid

(

)

const
This function will Returns the native process identifier for the running process, if available. If no process is currently running, 0 is returned. This is screenshot my program Qt : QProcess get PID :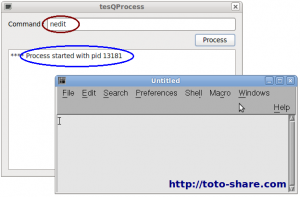 My name is Toto Sugito. This is my notes when I try something. Maybe, this is NOT THE BEST SOLUTION for your problems. If you have other method or idea that better with my post, please share in this blog. Thank for visiting my site.