From my last post, I create a program how to use QProcess in our program. Now, I try to write a method how Qt : QProcess in a loop method. This problem show when I try to use QProcess in a loop. I have list of command line program (running from bash or konsole) and I want to running that all list command from Qt.
We can solve Qt : QProcess in loop problem with use void QProcess::finished ( int exitCode, QProcess::ExitStatus exitStatus )   [signal]. This signal is emitted when the process finishes. exitCode is the exit code of the process, and exitStatus is the exit status. After the process has finished. You can read the complete description from this function at Qt Documentation. This is my screenshot of simple program Qt : QProcess in a loop :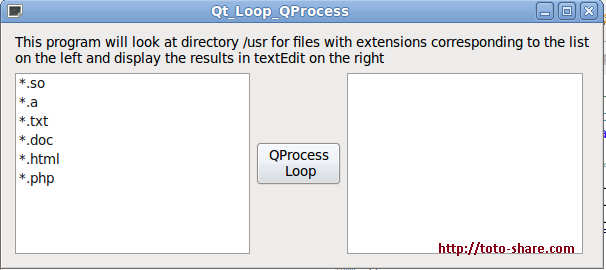 My name is Toto Sugito. This is my notes when I try something. Maybe, this is NOT THE BEST SOLUTION for your problems. If you have other method or idea that better with my post, please share in this blog. Thank for visiting my site.