Are you have any experienced with Column Editor ? I get this feature Column Editor when using Ultraedit. This method is very help out when we want to select or remove data in column mode. We can get this method with use command line in Linux, but I want to get Column Editor in interactive GUI.
After searching in google and use gedit with Column Editor support plugin, I get plugin in Eclipse to support Column Editor. Download this code and extract at your eclipse directory. Open your Eclipse and you can get eclipse with Column Editor support. So, we can get Windows/Linux Column Editor for free with eclipse plugin. This is my eclipse picture with Column Editor support.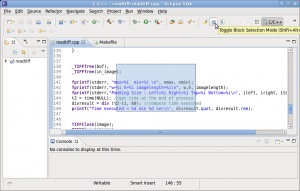 My name is Toto Sugito. This is my notes when I try something. Maybe, this is NOT THE BEST SOLUTION for your problems. If you have other method or idea that better with my post, please share in this blog. Thank for visiting my site.