If you a freelancer, you can try guru.com to create some money online (money from internet). I am join in this website one year ago and try bidding to get a project. guru.com have some of member registration. If you a free member,  we are only limited to bid 10 (ten) project every month. This is a screenshot of My First Payment Proof from guru.com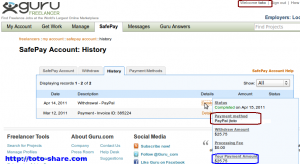 I get a small project from guru.com. This website could be alternative if you want to get money online or you want to post a project to internet. But, I recommended use vworker.com. Because in my opinion, vworker have more feature than guru.com (unlimited bid, affilieate program, project fee, etc).  Please check at here for more information.
My name is Toto Sugito. This is my notes when I try something. Maybe, this is NOT THE BEST SOLUTION for your problems. If you have other method or idea that better with my post, please share in this blog. Thank for visiting my site.