November 22, 2021
Mining Monitor Restore License
When installed the application, we get the free application. You can upgrade the application to PRO Version from app menu. The Free and Pro version have very same features (Except widget feature). So, if you don't like ads and need widget feature, don't forget to support us by buy the Pro Version.
Mining monitor application use unique device ID as license identification. The license is for the lifetime and one license only for one device. But, you can move the license to another device using Restore License feature. We need to save device ID and PIN to restore/move the license to another device. So, don't forget to save that !
How if we forget or lost the license ?
Please contact us by email to : totosugito@gmail.com. Don't forget to attach your payment proof with transaction ID information. The Transaction ID / Order number will start with GPA and look like this: GPA.1324-8563-1722-49305. So, we can restore/create a new license for you.
Where Can I Find The Transaction ID?
This can be found in either the email receipt from Google (not PayPal) or by logging into wallet.google.com.
Can we restore the license using our email ?
No. Because we don't save our user data (email, location, etc). So, we can only restore your license using the payment proof.
Example you have the device A and upgrade to the PRO Version. This device have device ID [ AAA ] and PIN [ 1234 ].
You have a new device B and want to move your license from A to B. This is steps how to move the license from A to B.
Open the application from device B.
Open PRO version menu from the application
Click Restore License button
Fill old device ID and PIN in the device B from your current active device (device A)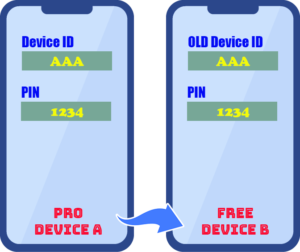 When the process success, your license is moved from A to B. So, your device A become free and device B become PRO version.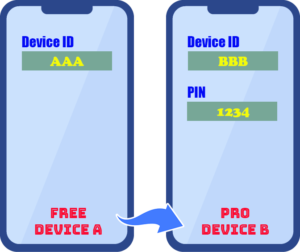 Don't forget to save your New Device ID [ BBB ] and PIN [ 1234 ]. You will need this data when need to restore/move the license to another device.